Maryland Heights Fire Protection District
Our Mission
The Maryland Heights Fire Protection District protects life and property with the highest level of prevention, preparedness and response to those in need.
Our Vision
Our Vision of Excellence is achieved through continued dedication to community service, professionalism, and devotion to duty. Through our highly motivated team of innovative members, we are committed to providing the highest quality of emergency services.
Our Values
Honor, Dedication Service, Respect.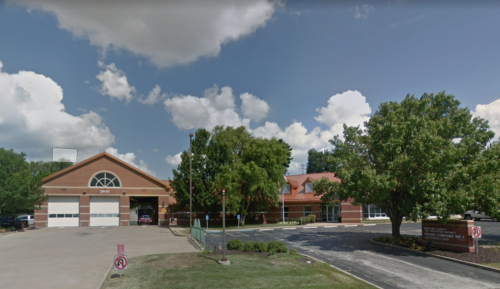 The Maryland Heights Fire Protection District encompasses eighteen square miles of St. Louis County, Missouri. Formally organized by a vote of the people in April 1949 under Missouri State Statute, the district is a political subdivision of the State of Missouri and pre-dates the City of Maryland Heights by more than thirty-five years. A three-member Board of Directors who are elected by district residents governs the district. The fire district employs forty-two line employees, four chief officers, a fire inspector and two administrative assistants. The fire district is a full-time career agency that operates twenty-four hours a day, three hundred sixty-five days a year.
The district's services include fire suppression, emergency medical services, specialized rescue (technical, collapse/trench, extrication, water) and hazardous materials response. In addition, the district also has a very active community education program that includes public fire education, cardiopulmonary resuscitation, and CERT.
The district boundaries are Page Avenue/Lackland Road on the south, McKelvey and Old St. Charles Rock Roads on the north, Marine Avenue on the west and Lindbergh Boulevard on the east. In addition to our district, we have mutual aid agreements with all districts, and also provide support on various responses throughout the St. Louis metropolitan area.
The fire district operates two engine houses and six front-line apparatus. Engine House 1 is located at 2600 Schuetz Road and is home to Engine Company 4414 and Ambulance 4417. Engine House 2 is located at 12828 Dorsett Road and is home to Ladder Company 4425, Marine Unit 4429 and UTV Unit 4428. In addition the district also maintains Reserve Engine 4490 and Reserve Ambulance 4497 for back-up purposes.
The district is funded by revenue generated from various tax sources including property, real estate, railroad/utility, and merchant and manufacturers. Under Missouri law, the district's Board of Directors set the annual budget and tax rate in August for the following year. The current tax rate is divided into five categories: general revenue, ambulance, pension, dispatching, and debt service. Contrary to popular belief, the district receives no revenue from the City of Maryland Heights or from the riverboat casinos located within Maryland Heights (that portion of the city is covered by the Pattonville Fire Protection District).
The District's was recently awarded an ISO class rating of 2.